With the recent launch of the "SBBS Bahn Bohr Sonde" drilling probe for railways, a piece of technology has now come onto the market that sets new standards not only in terms of performance and cost-efficiency, but in terms of quality too.
SBBS is quick: The patented rotary percussion core drilling method allows users to examine a probe site in its entirety within 30 minutes.
SBBS is conclusive: Core samples can be taken with Æ 180mm and virtually no disruption to the drill core, while at the same time a ground resistance measurement is taken using dynamic probing. Moreover, the hole drilled to determine the layer thickness is photographed using a high-resolution bore wall camera.
SBBS does not affect operations: The system is brought to the examination site on the track on a low-loader wagon or road-rail vehicle, which can be placed on and lifted off the rails at level crossings. The overhead contact line does not need to be switched off for the examination.
SBBS is highly efficient: Use of the SBBS does not require a geotechnical engineering specialist, for example, to be on site at all times. Analysis and documentation can take place later on in a condensed fashion at any location.
While the main focus of railway line maintenance used to be on ballast treatment and profiling, we are now seeing the inclusion of subsoil, protective layers or existing drainage systems too. With the "SBBS Bahn Bohr Sonde" drilling probe, a system has recently been brought onto the market that significantly reduces the amount of time spent carrying out a comprehensive condition analysis.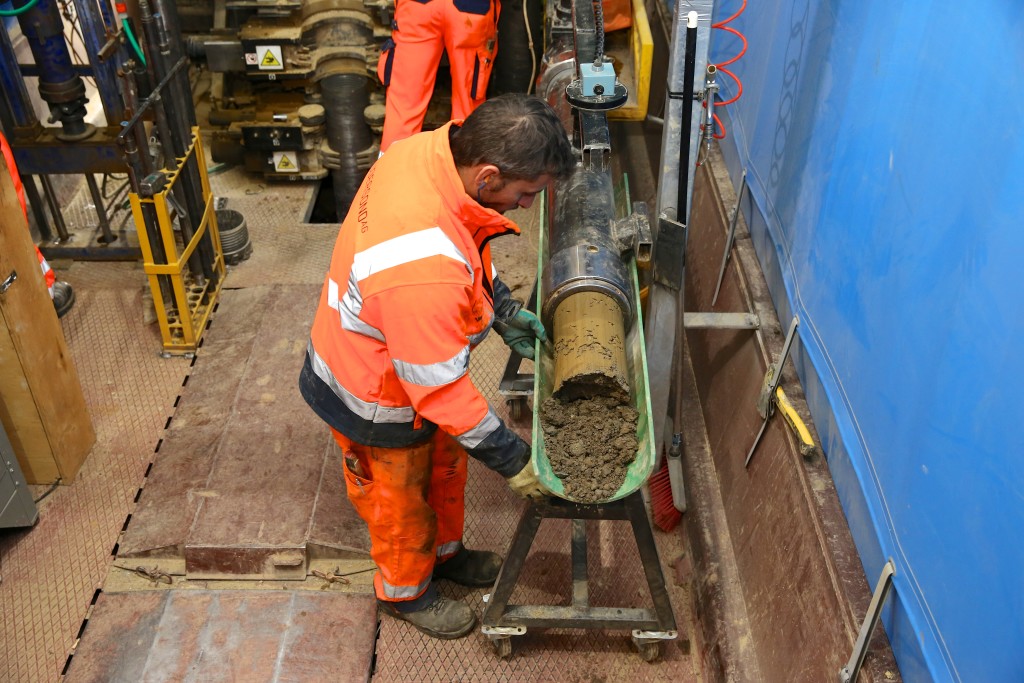 Taking the Core Sample/h4>
The exploratory bore is carried our in the sleeper bay of the track axis, at a depth of 3m. At the same time, the mechanical ground resistance measurement is taken using a heavy penetrometer (DPH) to a depth of 2m. Once the drilling depth has been reached, the core catcher is retrieved, the drill core is ejected into a half-shell using a hydraulic press.
It´s a remarkable technology convincing as a Swiss watch. We use SBBS to build a subsoil register for the entire network of the BLS AG.
Out of all the drilling technologies that we have encountered up to date on tracks throughout Europe, this method is excellent! Fast, efficient and meaningful! We are altogether satisfied.
The SBBS is an all around harmonious concept for all. The maintenance planner is able to use results as the main criteria for maintenance planning as well as the systems meets all the requirements for high-tech railway solutions.