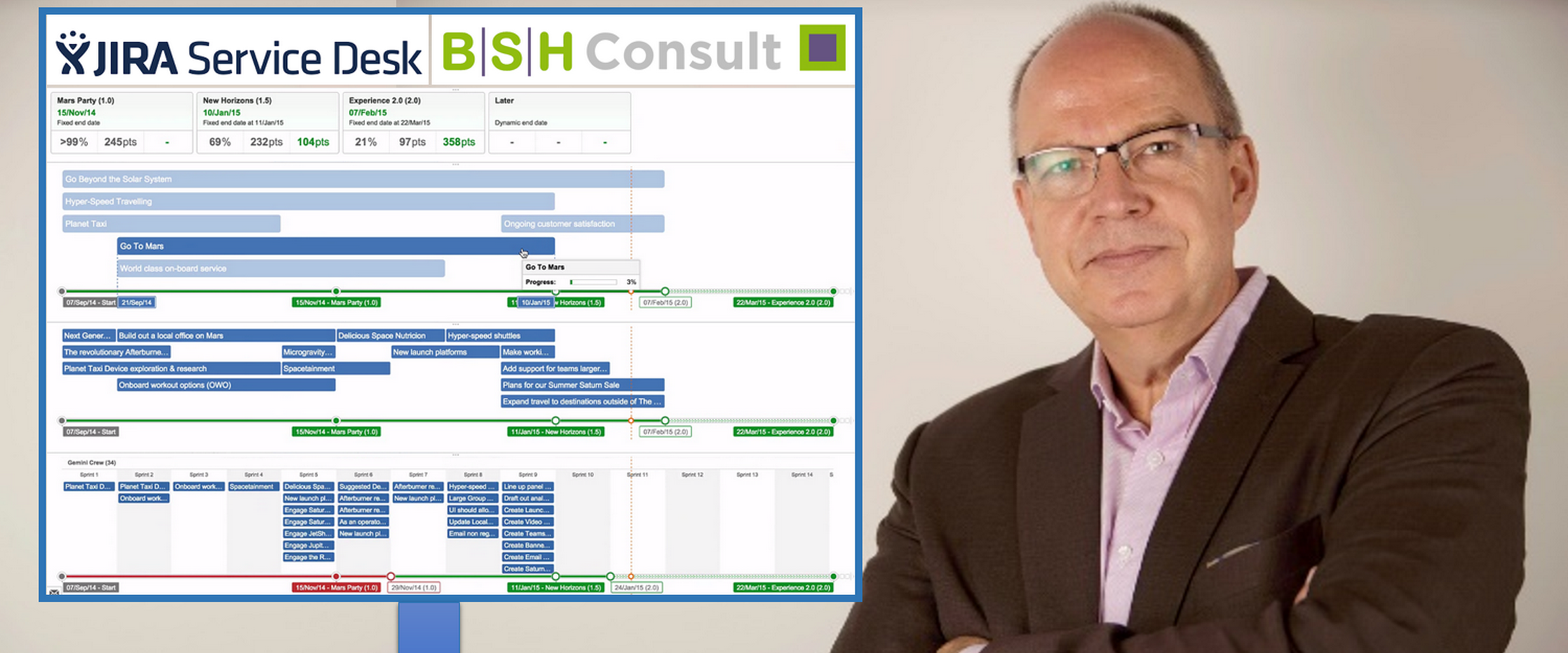 OUR APM TEAM´S CONVENTION IS UNCONVENTIONAL THINKING.
BSH-Consult is our APM platform where we use JIRA tools to deliver our outstanding services in may different industrial areas worldwide. Contrary to the "classic" project management, in agile project management ("APM") we permanently analyze, proof and update roles, processes and already existing plans and schedules and we place great value on involving our customers intensively throughout the project and regularly deliver results to the client. This means that changes are expressly welcome, as from our experience, only such a behavior creates the best results. We endorse this principle describing our APM constitution as follows:
People and interactions are more important than processes and tools.
This value puts everyone involved in the project in the foreground. So that everyone can reach their full potential, the scope should not be limited through processes, as is often the case in classical project management. People and their constant communication advance the project and not the processes or tools that are used.
Useful project results are more important than extensive documentation.
Agile project management prefers to produce continually functioning results rather than long reports or evaluations. In the end, the stakeholders prefer to have the product in their hands rather than the product documentation.
Cooperating with the customer is more important than contract negotiation.
The third value brings the meaning of the clients back to center stage. Instead of engaging in long and expensive contract negotiations with them, the work should be started earlier. Changes, clients ask for will be continually incorporated without having to disrupt the project progression with more negotiations.
Responding to change is more important than following a plan.
No project progression can predict changes to the requirements or to the desires and opinions of the client and these always result in changes to the scope and goal of the project. Classic project management shows that clearly: There, requirements are defined at the beginning and processed according to the plan. It is preferred to put off milestones rather than to question the defined requirements – and in doing so question the goal. This often results in the delivery of results that the clients are not satisfied with. An agile project reacts to changes and adapts the plan based on them. The original scope of the project can also change through this.
It´s all about values. Agile project management has its focus on those values, shown on the left. This does not mean, to completely ignore the values, described on the right but we believe it´s worth to have a clear definition what´s our focus. It's all about values as it is all about balance: Values on the left will always be considered first, but directly followed by those on the right. That's how to be agile.
FIRST CHOICE
The highest priority is to satisfy our clients by fast and continual delivery of valuable results.
We use changes at any project stage as a competitive advantage to the customer.
Usable results shall be delivered regulary starting at the earliest possible stage of the project.
Permanent communication between the experts and the project managers has the highest priority.
The APM team should receive regular support by all involved parties to keep the team motivated.
If at all possible, communication shall happen face to face.
SECOND CHOICE
Regarding project goals, KISS is essential: Keep It Smart and Simple!
The most important indicator of progress is to deliver an usable output.
A constant focus on technical excellene increases agility.
Teams shall organize themselves so as to allow the best output to arise.
Teams shall regularly reflect on their own behavior to become more efficient.
For sustainable development, the definition of the working speed shall be up to the team.
Regarding practical aspects, a comparison would look as follwos:
Agile Project Management
Time and effort are fixed, Scope of services is variable.
Process will permanently be improved, execusion will be kept variable.
There is a consistent influence form the client throughout the project.
Requirements can be added and/or adapted permanently .
Results will be delivered regulary as soon as possible.
The team and the project manager is responsible for the overall project.
Communication takes place through short daily updates and only a few documents.
Classic Project Management
Scope of services is fixed, time and effort are variable.
Linear defined process, developed step by step.
The client´s influence decreases over the course of the project.
Requirements are only defined right at the beginning.
Results will only be delivered at the end.
Only the project manager is responsible for the overall project.
Communication takes place through (most often too long) meetings and documents.
How to realize Projects with APM
Projekts can be realized by setting up your own agile processes based on the values and princples of agile development. An oppurtunity is, to use so called standard procedures like Scrum or Kanban.
Scrum:
Scrum is one of the most well-known processes for agile project management. In a Scrum project, there are the defined roles for the PM team, the Scrum master and client. Requirements shall be kept in a so called product backlog where it can be added and/or changed throughout the whole project. The project itself should be setup in releases and sprints, as for each part backlogs are available. Partial results should be delivered after each sprint. Furthermore, the team meets up every day for daily Scrums, sprint reviews and sprint retrospectives.
Kanban:
Kanban visualizes the workflows through a Kanban board, on which the requirements, or easier ´tasks´ are sorted according to their status. A task is noted on a kind of  ´post-it´ note and can be moved along the board from status to status. An essential feature is the upper limit of task for each status. It can be set that way to limit the amount of tasks to be worked on parallel at the same time. But there is no limitation of tasks regarding a certain time frame, as it is for example regarding the sprint backlog system in a Scrum project. The idea behind that ist, that the team autonomously takes new tasks from the Kanban board as soon as it has free resources.
Techniques of APM and good reasons to use APM
No matter which agile process you use: The handling of requirements (tasks) and changes is the focus of agile projects. These processes are the basis to achieve the goals of the client. But processes are only the framework for agile project management.
In order to implement a project agil, various techniques can be used, as shown in the following:
• Use Cases (requirements of the client)
• Personas (representation of the customer perspective)
• Burn Up Chart (visualized status of the project)
• Cumulative flow diagram (detailed visualized status of the project – key performance indicator)
• Earned Value Analysis (control of progress and budget – key performance indicator)

When is agile project management suitable?

Agile project management is suitable for projects:
• where only a vague picture of the requirements can be drawn.
• which are constantly exposed to changes that need to be addressed.
• which pursue a complex goal, e.g. because the final result cannot be discribed right from the beginning.
• which have, for several reasons, to deliver results a.s.a.p.
CONSTRUCTION PROJECT MANAGEMENT
WE OFFER SEVERAL CON-PM SERVICES TO SUITE YOUR NEEDS.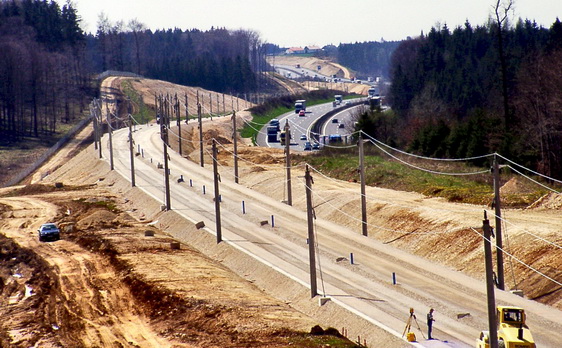 Performance is measurable, success too.
Professional project management is the bases for a successful work—of all involved parties. Smooth project implementation includes perfect organization, complete documentation and accurate coordination. We offer project management support in all of these areas.
Our experience, expertise and, last but not least, our innovative approach are future—and—success oriented. Effective and efficient work, continuous quality, cost and scheduled inspections avoid inconsistencies in advance. Furthermore, we create transparency and confidence. If necessary, we can also take over the project management representing the interests of our clients.
Project management in theory —and in practice.
Major projects are challenging but also risky during their realization with tight deadlines and involve high investments. 25 years of experience in managing construction projects management make our specialists competent, committed and confident to close the gaps between theory and practice. In a highly complex business, our extensive knowledge in our area of expertise and experience, even to the last detail, has been a necessary prerequisite for our company's continuous record of success.
We rely on "tried and tested" in house developments of professional scheduling and controlling instruments using standard procedures and progress indicators gained through many years of experience or applied directly in the project by using GPS technology.
Manage complex projects
Master construction engineering.
Comply with budgets and deadlines.
Merge the interests of our clients, government agencies and third parties.
Observe side effects.
Mastering crisis and find solutions.
Manage construction sites.
Update Project plans.
Ensure quality.
Monitoring construction activities.
Perform contract management.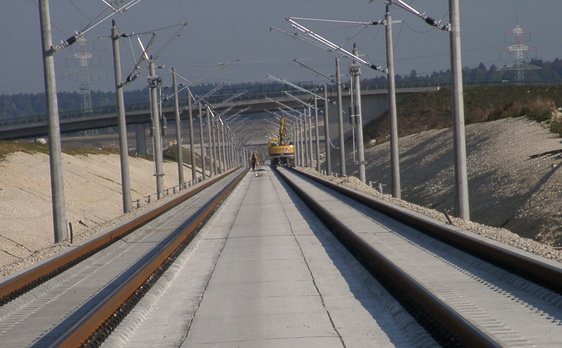 Sophisticated ccontract management.
Fast and accurate evaluations of the situation, timely and competent decisions are not only important conditions for project success; they are among the most effective measures to be taken as a preventive for dispute avoidance.
The development of efficient solution strategies, the reliable detection review of deviations and resultant technical and financial problems, scheduling and cost-related impacts, are the foundation of all – even legal – ratings and condition precedents of a successful negotiation.
Our responsibility, e.g. in the development of efficient solution strategies leading to mutual clarification and agreement or consent, is always necessary for long-term project success. In this area, we have proven ourselves to be specialists.
Claim management transparent and fair. With certainty.
Apart from the high standards we apply in our work, there are other demands in the industry that are quite different in nature. Disturbances are not uncommon in construction projects and impose a threat to productivity and deadlines. As a result, the additional costs put the success of the project at risk.
[/fusion_text] [/fusion_text]For an objective evaluation of such disruptions, it is vital that the project manager can identify and evaluate the different interests of all involved project participants.
[/fusion_text] [/fusion_text]Based on a consistent project—related documentation (e.g. with GPS transmitters) in conjunction with quality, schedule and cost control, such conflicts can be resolved.
[/fusion_text] [/fusion_text]Our contract and claim management stands for a results—oriented and fair cooperation.
[/fusion_text] [/fusion_text]Mastering risk diplomatically.
[/fusion_text]Prevent risks.
Detect defects.
Minimize disruptions.
Objective reporting.
Mastering critical situations.
Evaluate construction disturbances.
Avoid legal disputes.
Elaborate complete documentation, also with GPS.
Avoid conflicts.
Moderate crisis communications.
Constructive resolution of conflicts.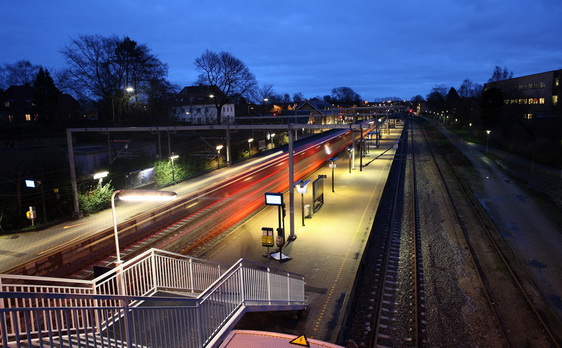 Fair play in team and international.
We are technically and professionally up to date: we complement our long—standing expertise with individual software solutions and provide a timely, economic and smoothly working Project.
We strengthen your position in all issues and ensure your project success.
We see ourselves not only as a team player: we are a global player. Advise at home and abroad and we assist our clients in Project development, Project management and implementation of projects.
We can call on experts from our partner network at anytime and re-prioritize as situations change.
Sophisticated management, complex experience. And more.
In the past few decades our experts have successfully completed numerous construction projects in the fields of railway construction, road and structural engineering.
We have been contracted as project developers, construction managers, site engineer or project coordinators and implemented contract and claim management, controlling and possession planning experts.
No matter the size of the project, we up for the challenge- big or small!
Our projects are highly complex processes. Knowledge of many faculties is needed. We are the competent partner for challenging tasks and sophisticated customers.
uh-admin
2017-04-02T09:09:28+02:00
Process Management Set up and optimization of processes
uh-admin
2017-04-02T09:25:00+02:00
A data management tool to analyze data especially
uh-admin
2017-04-02T08:26:11+02:00
SBBS Drilling Technology SBBS BAHN